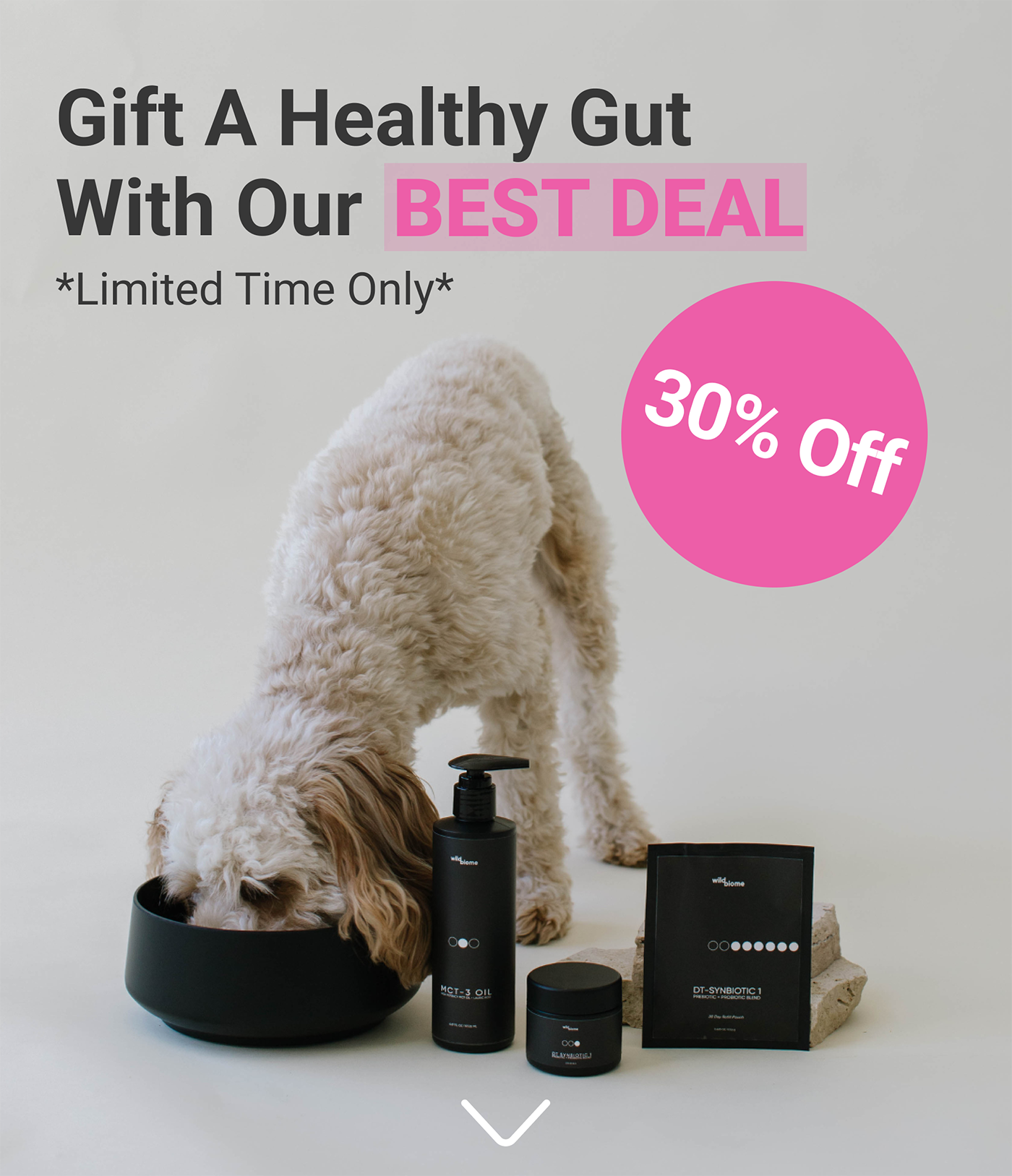 The Complete Gut-Revival Protocol
Get your dog's health back.

Find the right food with a nutritionist's help, detox excess yeast/candida with our powerful MCT-3 Oil, then repopulate the gut with DT-Synbiotic 1.

You're 12 weeks away from a dog without yeasty symptoms.

 
MEDIUM SIZE SOLD OUT - BACK ORDERS ONLY 
Good News: you don't need any physical supplies from us during the first couple weeks of the Protocol. We should have supplies in a manner of weeks, meaning your back-order experience won't be very different from the typical experience. 
We can still get started immediately, even on back order!
100% Money Back Guarantee
$2.13 - $2.48 per day
View full details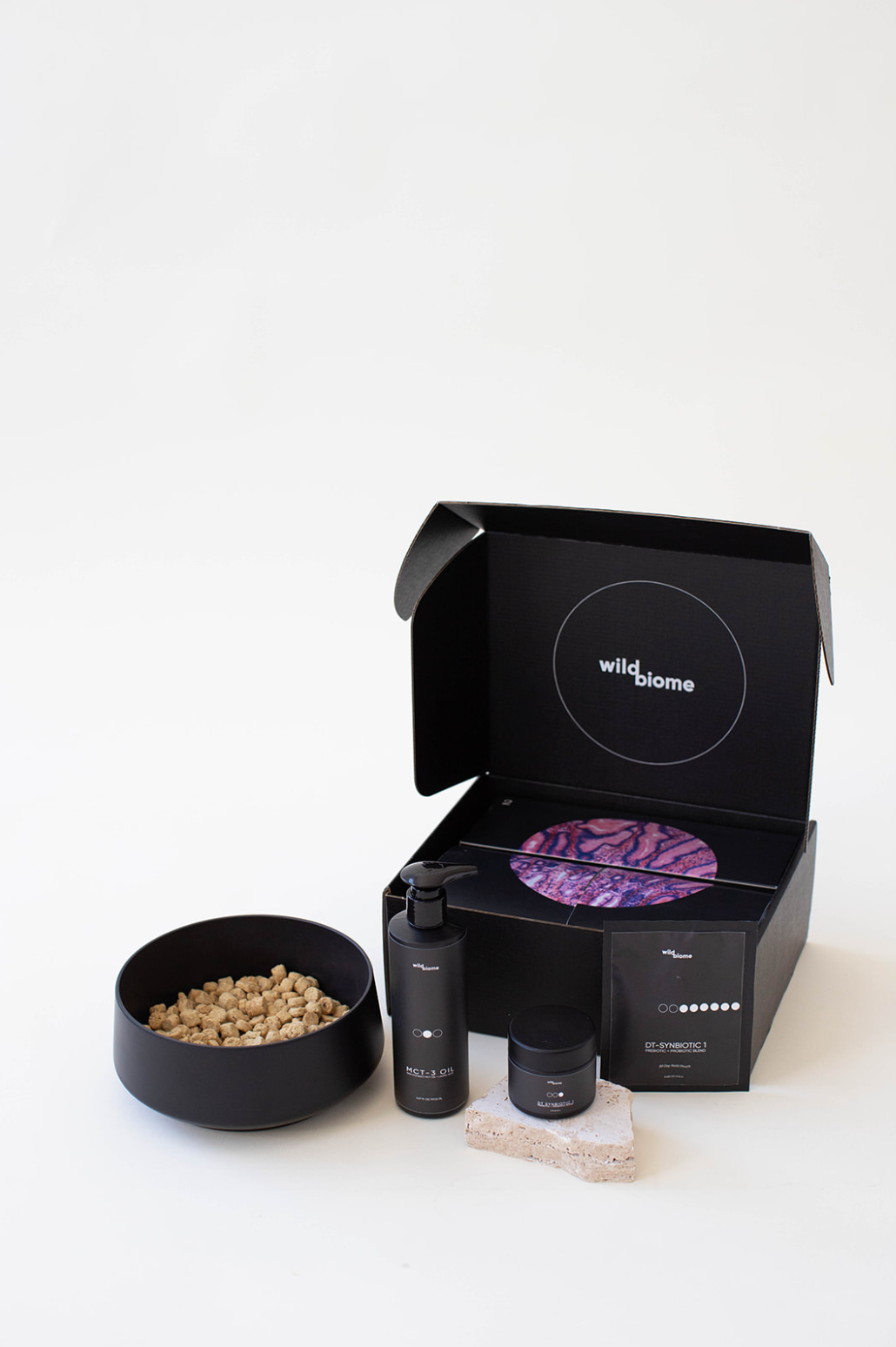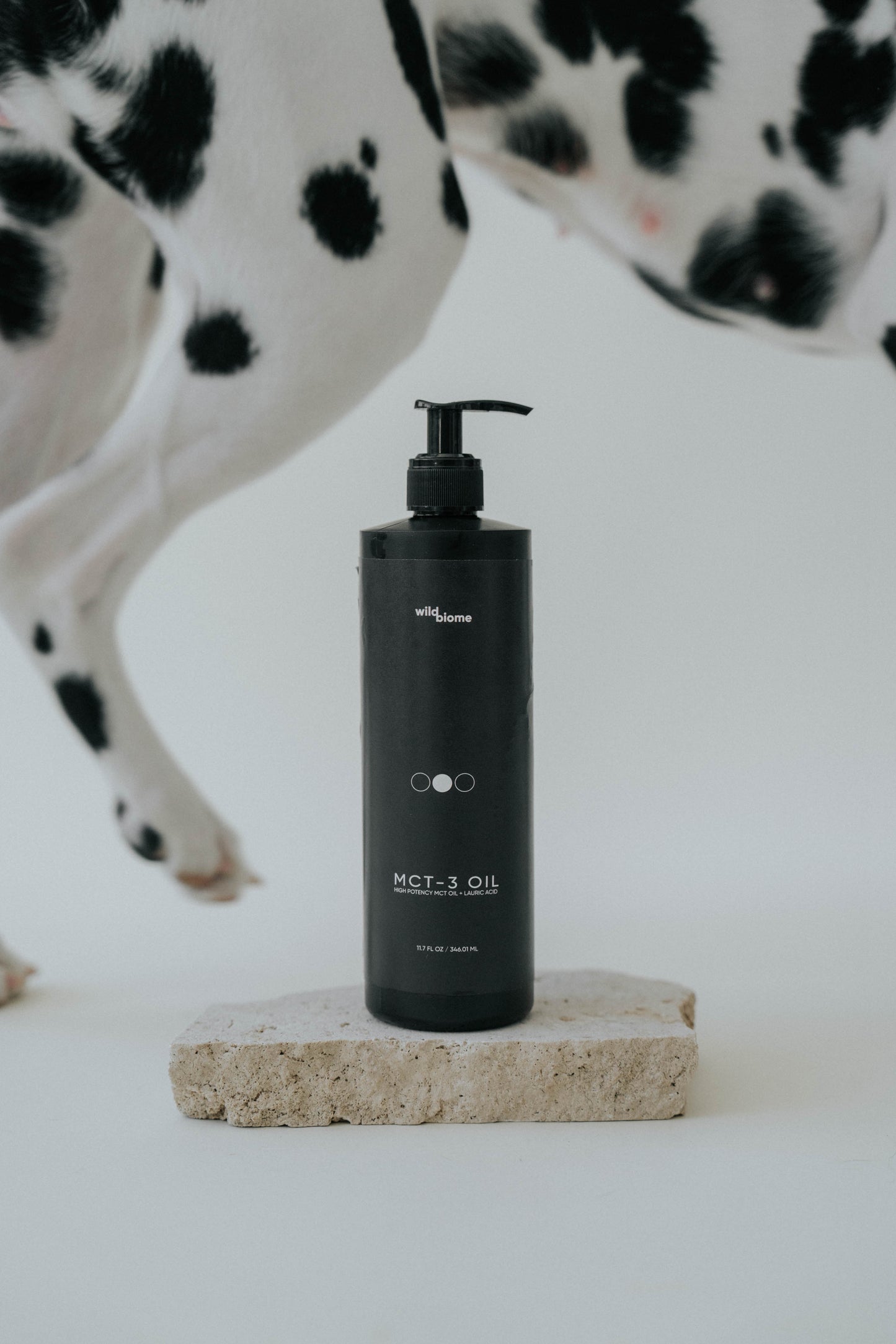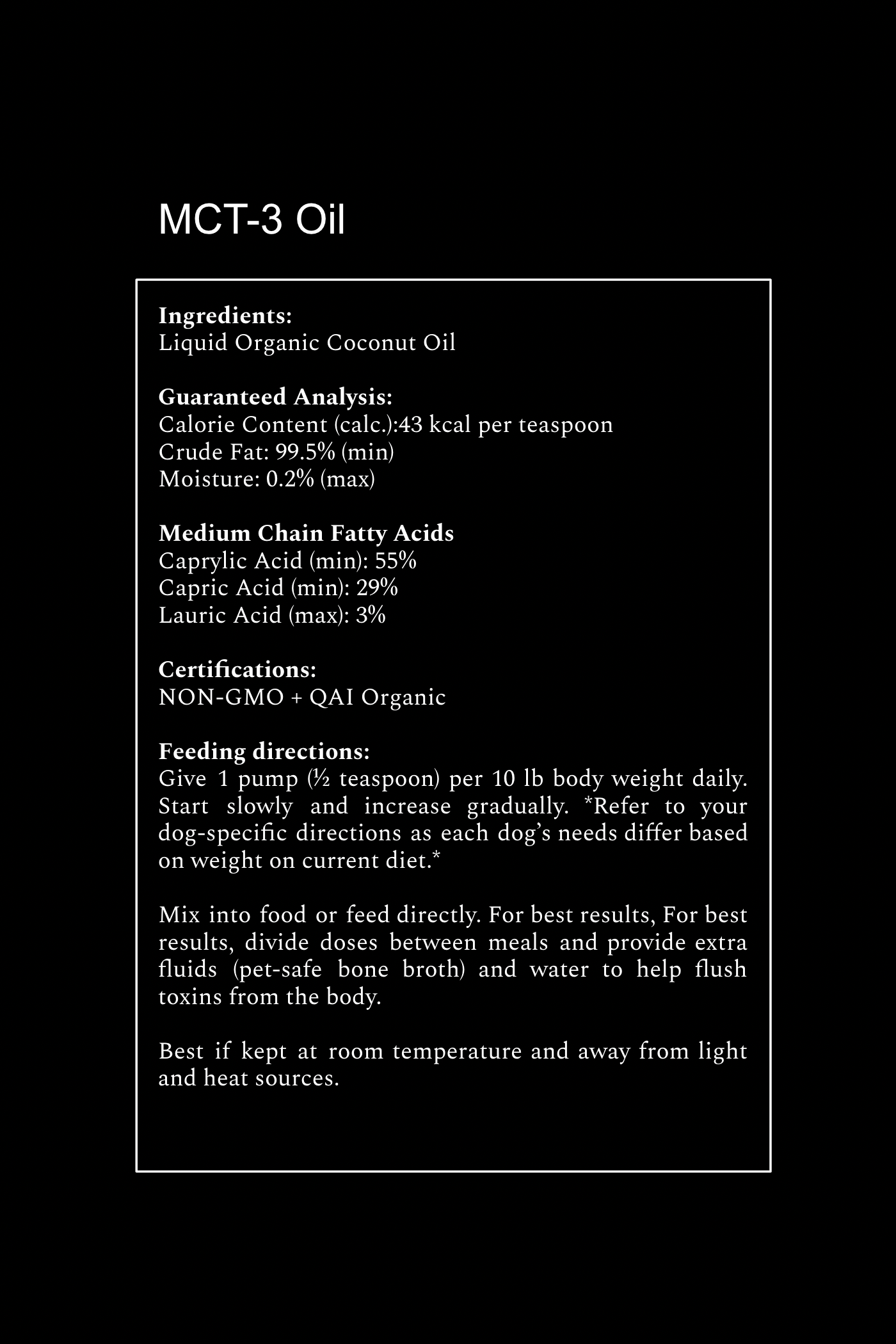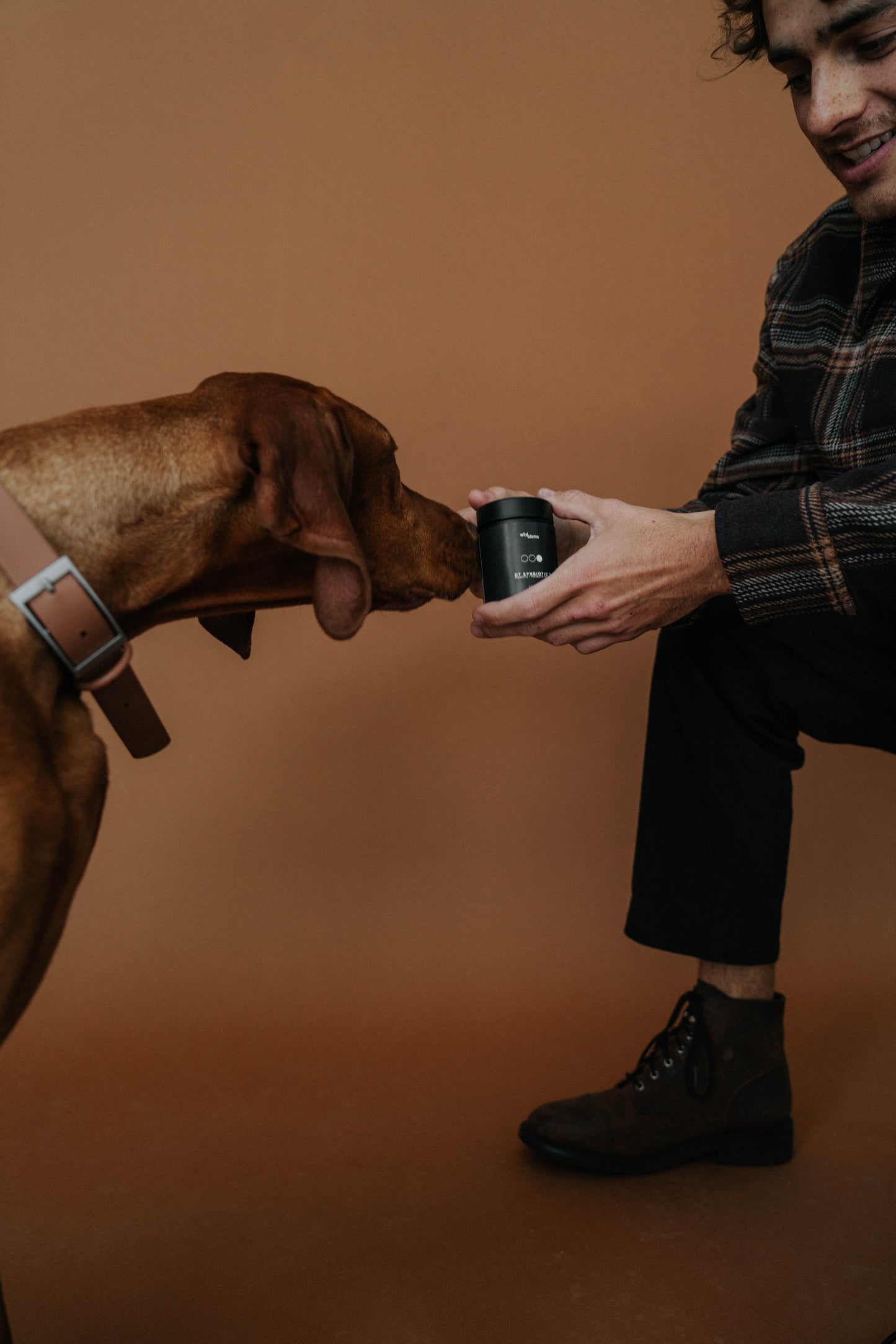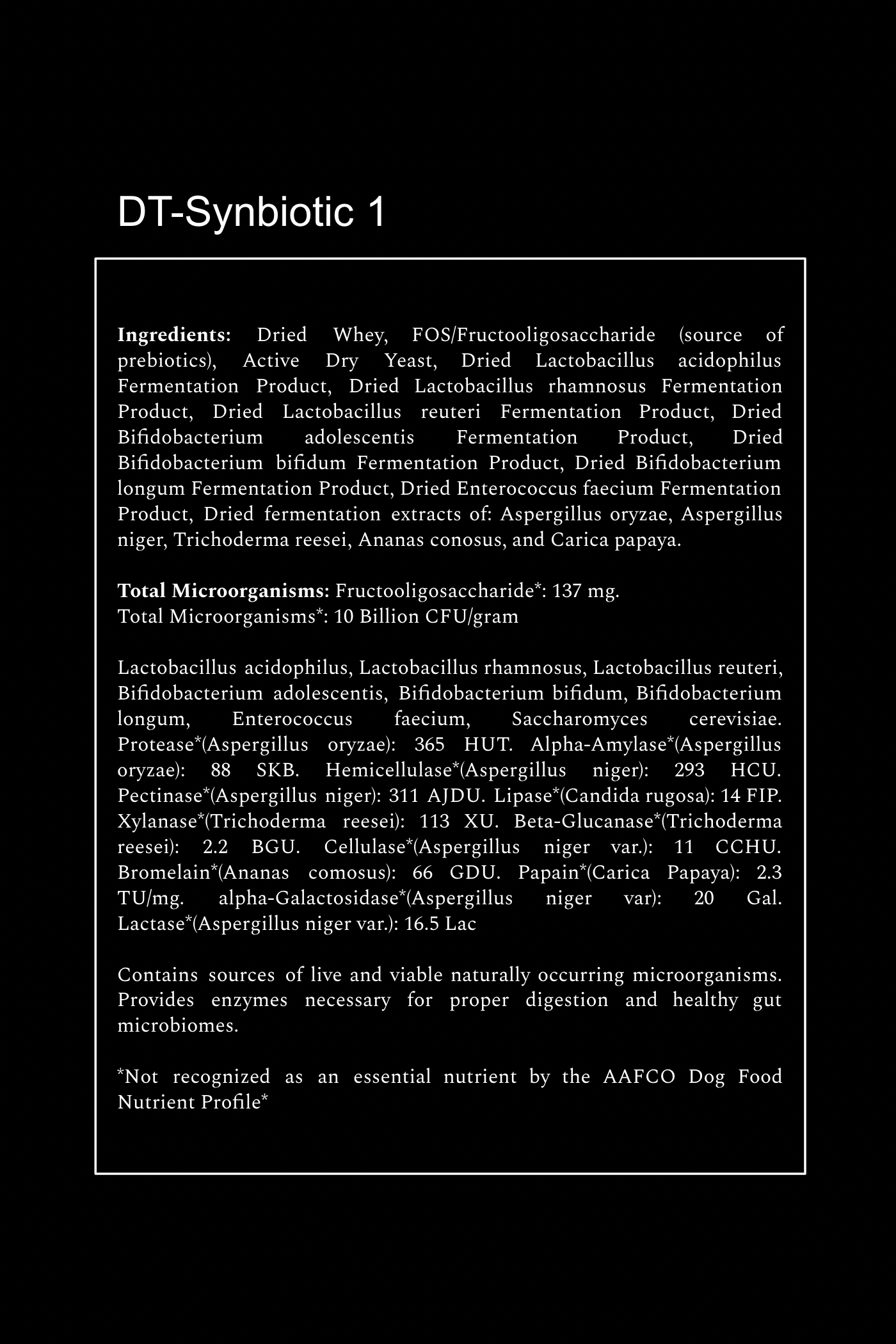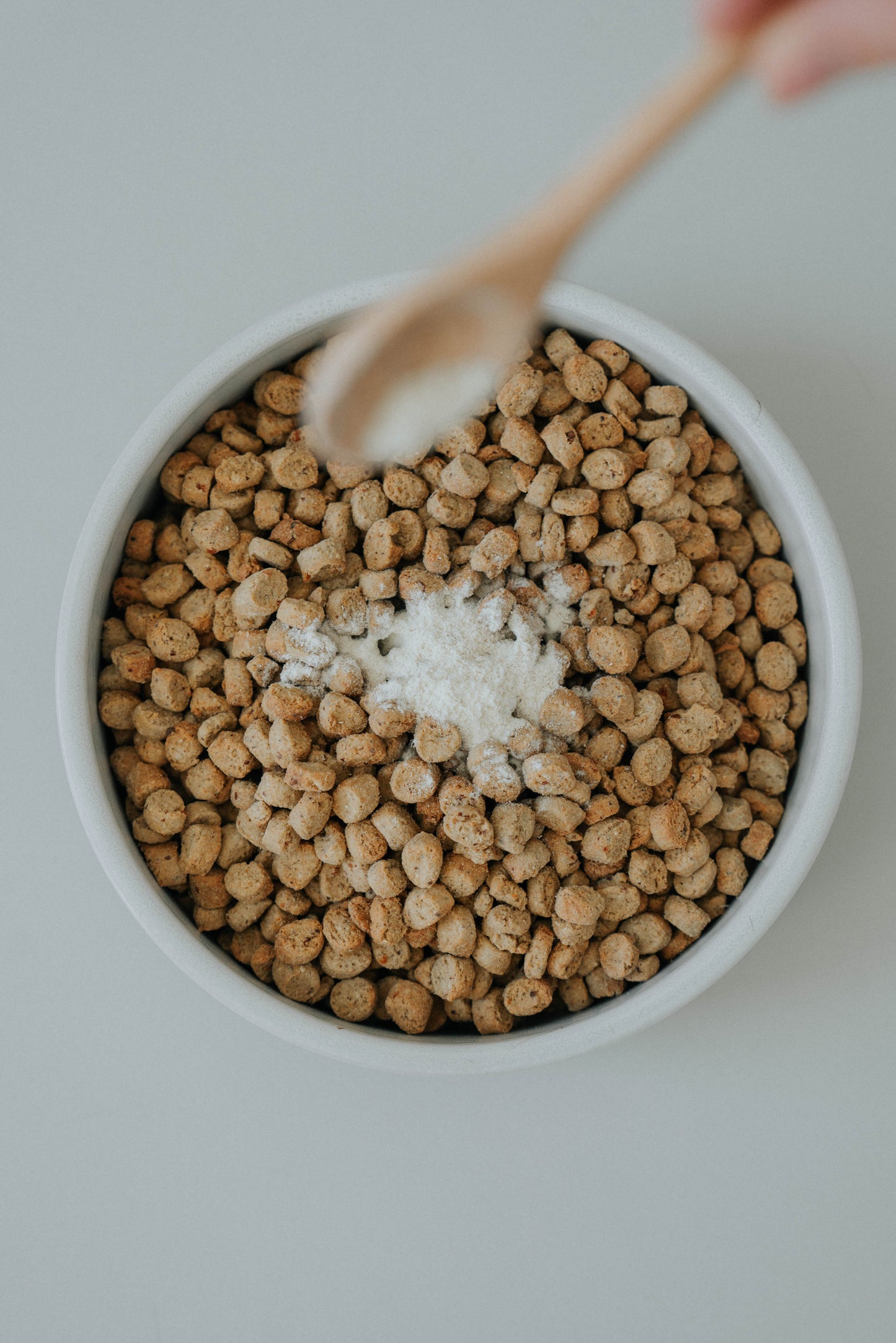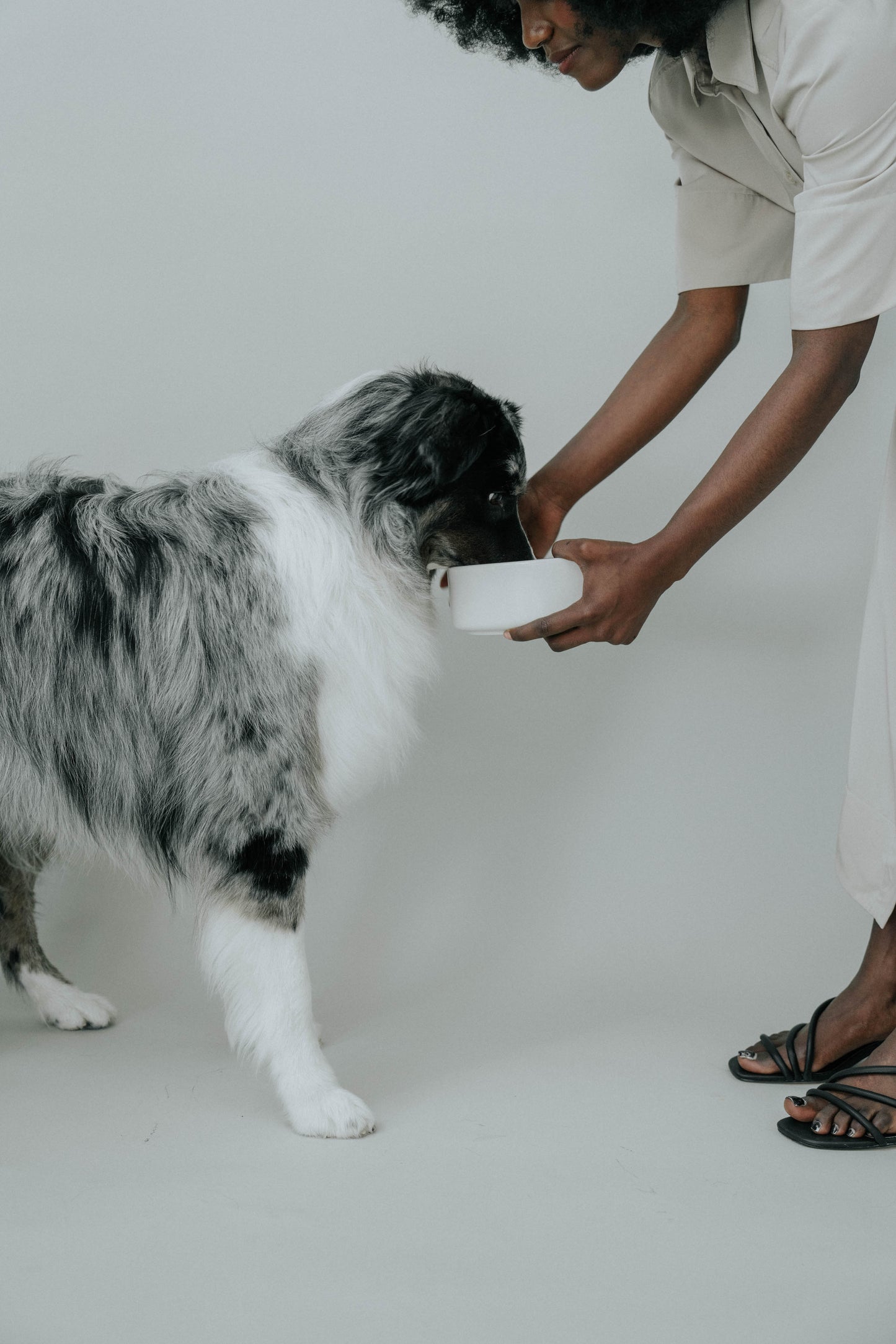 Protocol FAQ's
$179.99 every month?!

Nope :) When you purchase the Complete Protocol + Subscription above, you'll pay $179.99 only ONE time. This takes care of everything you need except food (see FAQ 2) during all 12 weeks of the Protocol.

The recurring subscription of $30/month begins AFTER those 12 weeks. With that subscription, you'll receive a monthly supply of our DT-Synbiotic 1 probiotic to maintain your dog's gut resilience, for good.

Pause, skip or cancel subscription anytime.
Is this Protocol a dog food?

We do not sell dog food, we recommend certain dog foods.

After you purchase the Protocol, our nutritionists analyze your dog's history + current situation, then recommend several dog food options for you to choose from and purchase separately.

Every dog's situation is variable, so it's helpful to know exactly what food will help your dog's yeast problem best.
What's included?

Both options above include the Protocol Starter Kit - everything you need except food (see FAQ 2) for your 12-week Protocol. The Complete Protocol + Subscription option also subscribes you to a monthly shipment of DTS1 upon completing your 12-week Protocol (see FAQ 1).

The first thing you'll receive with either purchase is a list of several customized recommendations for gut-approved food.

In the Starter Kit itself, you'll receive...

Protocol instructions
A 2-week supply of MCT-3 Oil (detox)
An 8-week supply of DT-Synbiotic 1 (pre/probiotic + enzyme blend for bacteria repopulation)
Access to our team of Clinical Pet Nutritionists to answer all your questions along the way
What's the money-back guarantee?

Your dog has a unique history and set of physiological circumstances. As such, we recognize that no matter how good we know our Protocol or ancillary solutions to be, they may simply not work for your dog at this time.

If that's the case, we will refund the entire purchase price of the products you ordered. We're trying to be very generous with our refund policy, so please don't let the fear that our Protocol may not work keep you from trying it out!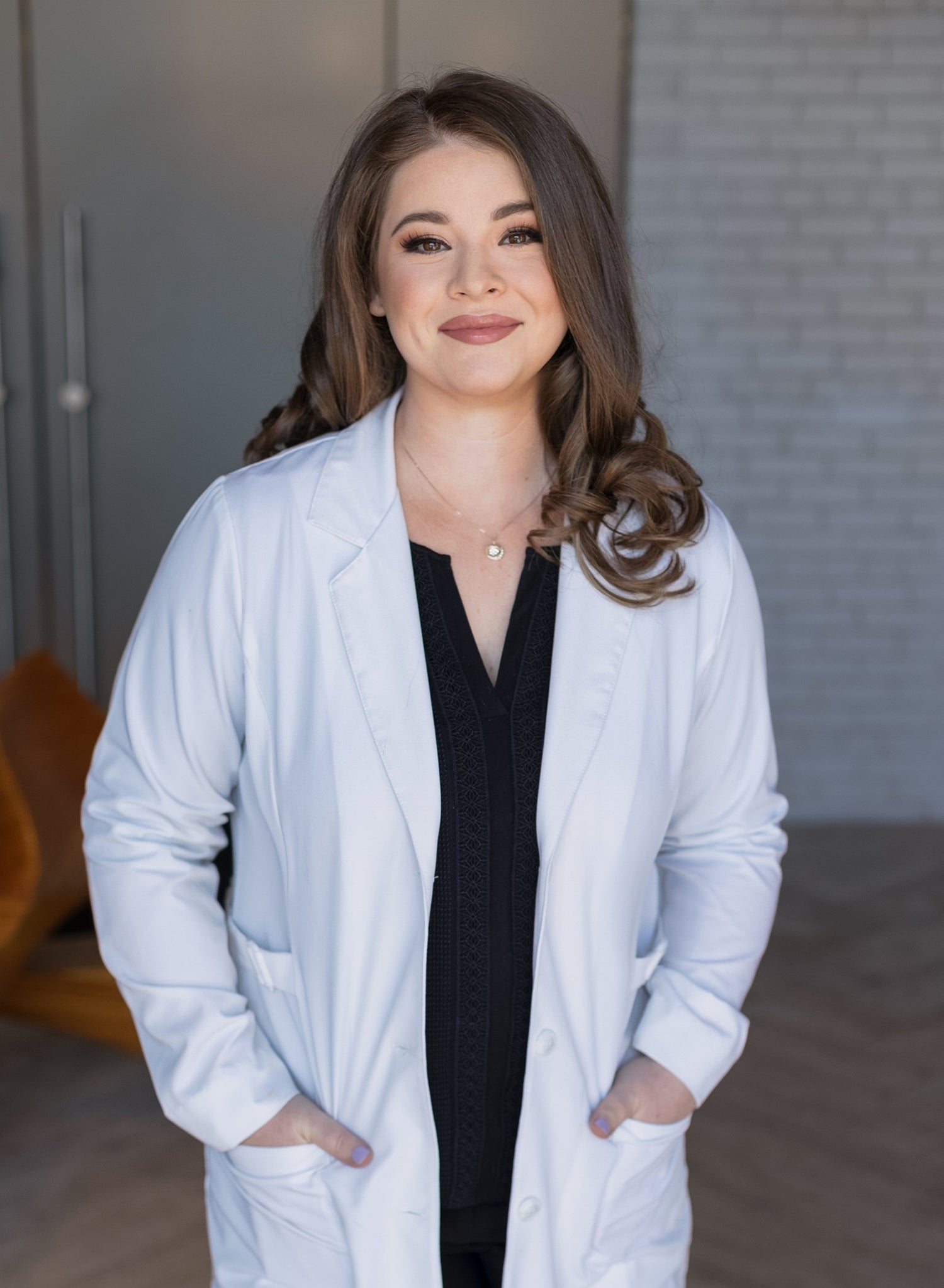 Meet our Co-founder & Clinical Pet Nutritionist, Samantha Henson
I am a vet-tech turned pet nutritionist. I have been running my practice for over 15 years and have helped tens of thousands of dogs revive their gut microbiome.
Sam's Story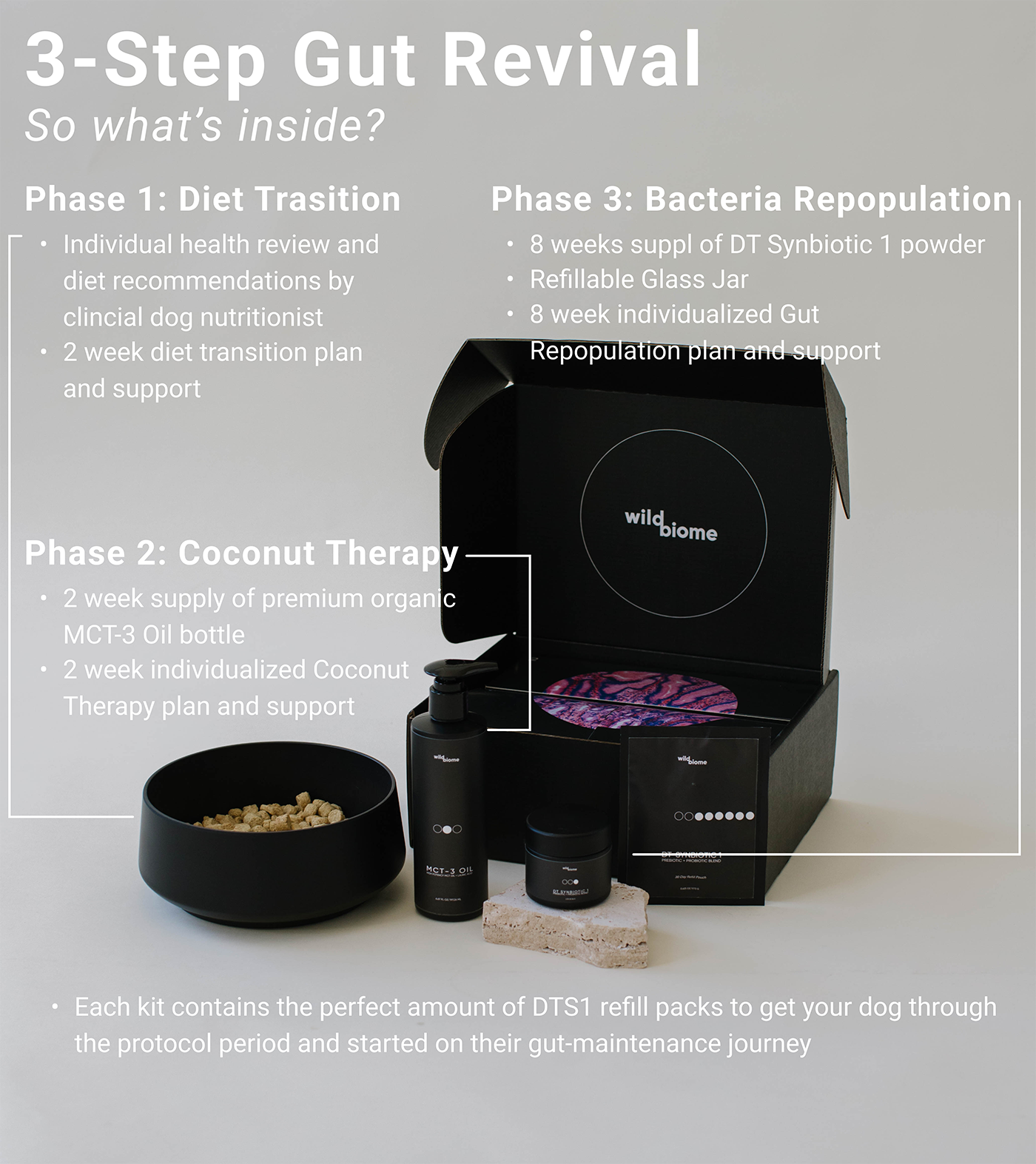 Before
After
Wild Biome Trial Participant: Nula
In a customer experience trial, 92% of participants experienced reduction in yeast-related symptoms with Wild Biome's individualized Gut Revival Protocol.
Effectively reduced:
Fur Staining
Skin Irritation
Ear Infections
Itching
Before
After
Real PROTOCOL User: Gus
Wild Biome's Protocol is formulated by a team of clinical pet nutritionists for each individual dog to kill yeast and end symptoms for good.
Effectively reduced:
Face Graying
Signs of Aging
Itching
Skin Scape
Before
After
Wild Biome Trial Participant: Midas
Wild Biome's Protocol is formulated with ingredients to cool down your dog's system and bring the gut microbiome back to a healthy balance.
Effectively reduced:
Diarrhea
Belly Sores
Hot Spots
Itching
Before
After
Real PROTOCOL User: Jos
Wild Biome's individualized three-step Protocol is formulated with billions of therapeutic-grade bacteria to refortify the gut flora and fight off excess yeast.
Effectively reduced:
Licking Sores
Food Allergies
Itchiness
Digestive Imbalance
Before
After
Real PROTOCOL User: Bailey
Wild Biome's Protocol is formulated with ingredients that are shown to reduce symptoms of leaky gut syndrome and yeast overgrowth.
Effectively reduced:
Hair Loss
Hot Spots
Dandruff
Allergies
Irritation
Megan West
Off Prednisone, solid stools for a year, blood panel basically perfect!
See More
Rosie Card
All the red gunk on his rear end, GONE.
See More
Nicole Peterson
Chronic ear infections healed for good!
Hayley Harman
No more tear staining, scratching,and SOLID POOP!
Tracie Fowler
"I have my dog back thanks to The Protocol."
Stephanie Bernstein
Considering putting him to sleep but now we have our old Charlie back.
Megan West
No more cooking daily and cured inflamed bowel disease.
Wendy Sunderlage
Yeasty red fur staining and irritation gone!
Sarah Fedotov
No more vomiting or diarrhea.
Paige Barker
Less itching, more energy, and less face graying.
Brittany Monson
Increased energy and no more itching!.
from senior dog to puppy again!
When my family got a new puppy, I worried about my Senior dog (Mozzie) being able to keep up. He's always struggled with allergies (hair loss, extremally itchy, ear infections, eye goop, frequent nausea, ect...). The vet put him on Apoquel years ago and I have tried nearly every anti-itch multi vitamin Amazon has to offer but still Mozzie was frequently sick, lethargic and itchy.
I saw an Instagram ad for Wild Biome and figured it would be worth a try. The start of the protocol was rough to watch as Mozzie became very lethargic and all his previous symptom's seemed to ramp up exponentially, but I'm so grateful for the Wild Biome team! The consistent E-mails and support helped us stay on track through the itchy nights. The team responded to my e-mails SO FAST and helped me feel confident I was doing the right thing.
Mozzie has been on the protocol for over a Month now and I'm already seeing improvements in where he was before Wild Biome. His eyes are clear, the dandruff is gone and his red skin is almost healed! It has been amazing to see my dog (who is usually so itchy he has to stop mid play to scratch his ears) play so energetically with our new puppy!
No more ear infections
The amount of ear infections our golden doodle had in the last few years was sending us to the vet every 6 months. With the vet visit came a round of antibiotics, steroids, and ear drops but they never seemed to clear up completely. Not only did we deal with ear infections but shedding, itching, and so much licking. We saw this protocol and thought we'd give it a shot. We haven't been back to the vet since. No more ear infections! We had a hard time getting through phase two but Amanda helped guide us along every step of the way and our doodle is acting happier, healthier, and overall had more energy than she used to. So glad we found you guys!
Amazing protocol!
Our 95% white coated pit mix was suffering with allergies and yeast. Our veterinarian had us try several expensive diets and medication combinations that did not help. The Wild Biome protocol has been such a blessing! He isn't red and itchy anymore, and he is energetic and playful!
TBD
I think the hardest part when your #1 hope is to rid your pet of the extreme itching is the amount of faith and length of time after starting before you see improvement. I started my pets food transition over three weeks ago with the adding of the ultra oil and the protocol phase 2 (mct-3 oil) over 10 days ago. We have not given our dog ANY other food outside of the new food and oils but have yet to see improvement and that takes a lot of trusting that the results will come. Time will still tell but knowing in advance a realistic timeline is over a month away would be helpful to set expectations. I have to admit I start to panic that it may not ever provide the results we're hoping for but still TBD I guess.
Kash
I have been following this protocol for 4 months and the amount of positive change I have seen in my dog Kash has been unbelievable. No more tear staining on his white fur, no more constant scratching that we thought were allergies, no more tummy noises all night and can I mention...SOLID POOP for the first time in over a year. I am so thankful for her guidance, and so is my vet!